Everything You Need To Know About Getting Your County's "Delinquent Tax List"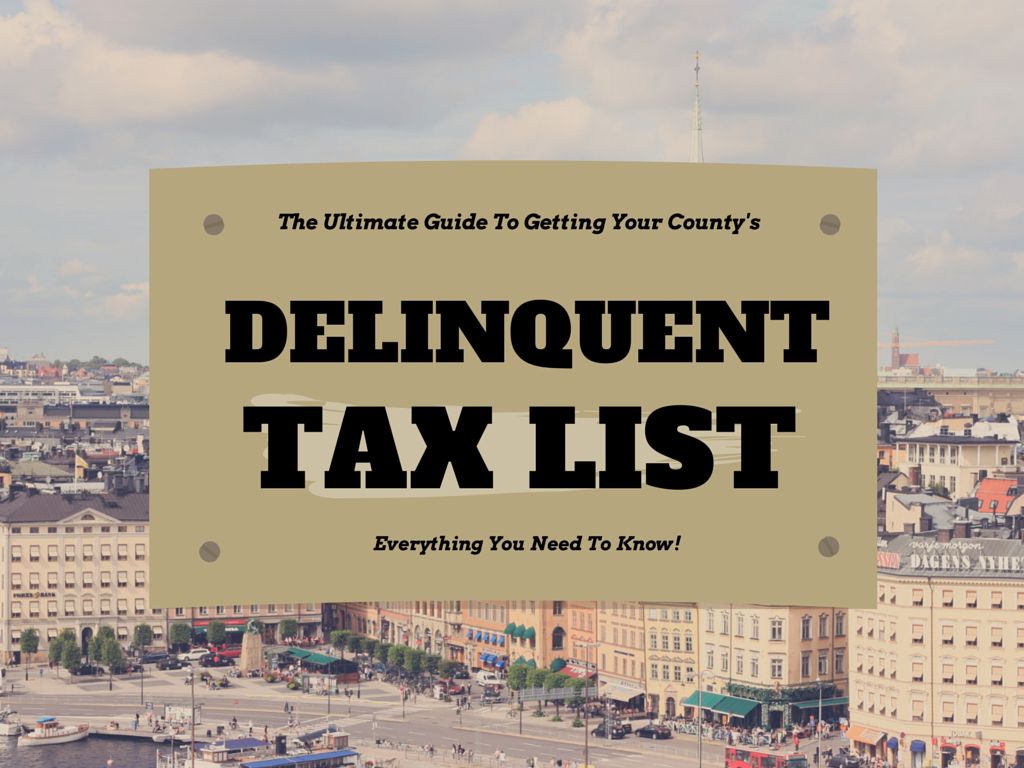 Learn To Buy Real Estate Free And Clear
What if You Could Buy a $100,000 Property For $15,000? Here's How!
If someone told you about a $50,000 piece of real estate that you could purchase free and clear forfive thousand bucks – you'd be all over it, wouldn't you??
Suppose you knew exactly where to find an endless supply of these deals, how to buy them quickly, for pennies on the dollar AND repeat the process over and over again… can you even fathom that kind of buying power?? 
Let's just think about this for a minute…
Would could this do for your business?
How quickly could you SKYROCKET your personal wealth with this kind of information?
With access to such a vast supply of free real estate equity – it probably wouldn't take long to build up a MASSIVE (and debt free) real estate portfolio, would it?
The truth is – there is an endless supply of these opportunities… and they are all over the place. Most people will never know about them, because they have no idea where to seek them out – but in the next few minutes, I'd like to help you connect-the-dots and open your eyes to a new world of opportunity.
When I first got into real estate investing, I had no idea that there were HUNDREDS of these opportunities all around me. Like most people, I just assumed the only properties I could buy were the ones with a "FOR SALE" sign in the front yard.
I was seriously mistaken.
The reality is – most of the best real estate deals on earth go completely unnoticed by the general public. Only a small handful of people even know where to look for these opportunities, and the rest of the world is largely oblivious to the goldmine sitting right beneath their feet.
I got lucky. Soon after I started investing in real estate, I learned about one of the most valuable resources of all time (and no, I'm not exaggerating). It's called the "Delinquent Tax List" and it was ESSENTIAL to my early success as a real estate investor. This was where I found my unfair advantage – and if I hadn't had access to this kind of information, I probably wouldn't have made it very far – that's the honest truth.
What Is It?
Let's start with some background…
As you probably know, every property owner in the United States is obligated to pay annual property taxes for the real estate they own. These taxes are paid to the city, the township or county in which they reside.
In order for a city, county or township to charge taxes on each property, they need to keep a detailed record of every property within its jurisdiction, including (but not limited t0) the following information:
Who owns the property.
When they purchased the property.
How much they paid for the property.
How much each owner owes in taxes.
and so on…
All of this information is public record, which means you find this data on any property in the United States if you just know where to look.
How It Works
So what happens when a property owner fails to pay their taxes?
It's pretty simple really.
Every county has a Treasurer (also known as a Tax Collector in some states) who is responsible for collecting and tracking the payment of these property taxes. When people don't pay their taxes, the Treasurer's Office will create a running list of who still owes them money (this is the same list they use to mail out their delinquent tax notices).
Some county Treasurers will refer to this list by different names, like:
"Delinquent Tax Roll"
"Tax Delinquent List"
"Tax Forfeiture List"
"Tax Assessor's Roll"
(or something to that effect)
Though it can go by different names in different counties – they're all referring to the same thing.
When a property owner fails to pay their taxes, their name will be added to this list. Once they're on this list, the county will wait anywhere from 1 – 5 years (depending on the state) and when enough time has passed, the county will come in and take these properties from their respective owners via tax foreclosure. Regardless of how much money an owner may have invested in their property – if they don't pay their taxes, they will lose the entire property – forever.
The "tax foreclosure timeline" works a bit differently in every state, so it's important to understand the rules wherever you're working. In my home state (and in many other states throughout the U.S.), a property can accumulate up to 2 years of delinquent taxes before the county can seize the property in tax foreclosure. This little diagram gives an illustration on how it works…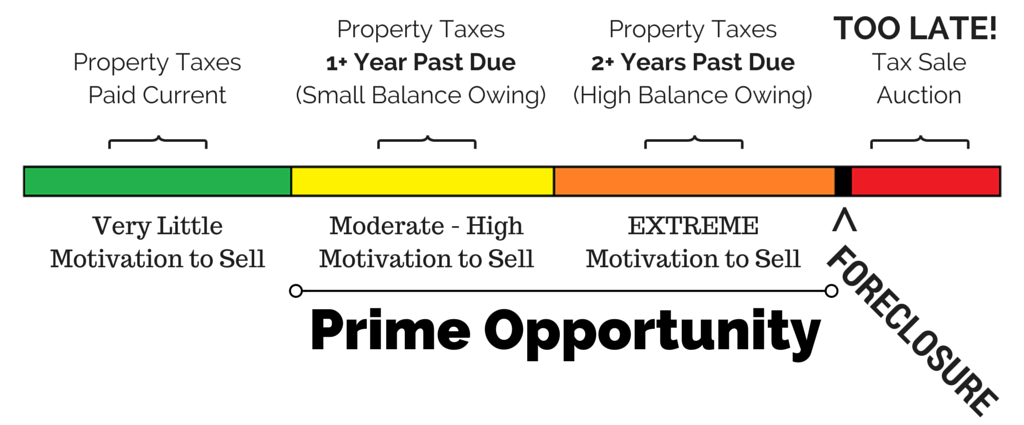 Now keep in mind – if the property owner wants their name to be erased from this list, they can do it at any time by simply paying off their property taxes (and all the late fees they've incurred along the way). As long as they pay off these taxes PRIOR TO the county's drop-dead date, they will maintain full ownership of their property.
This list is kept up-to-date every day with the delinquent (or non-delinquent) status of each property owner. It's a set of information that is constantly changing, with new names being added and old names being removed as people pay (or don't pay) their property taxes…..more
Learn To Buy Real Estate Free And Clear